Lee's Tar Heels: The Pettigrew-Kirkland-MacRae Brigade
- Winner of the Douglas Southall Freeman Award, 2003
To order, go to: http://uncpress.unc.edu/books/T-4982.html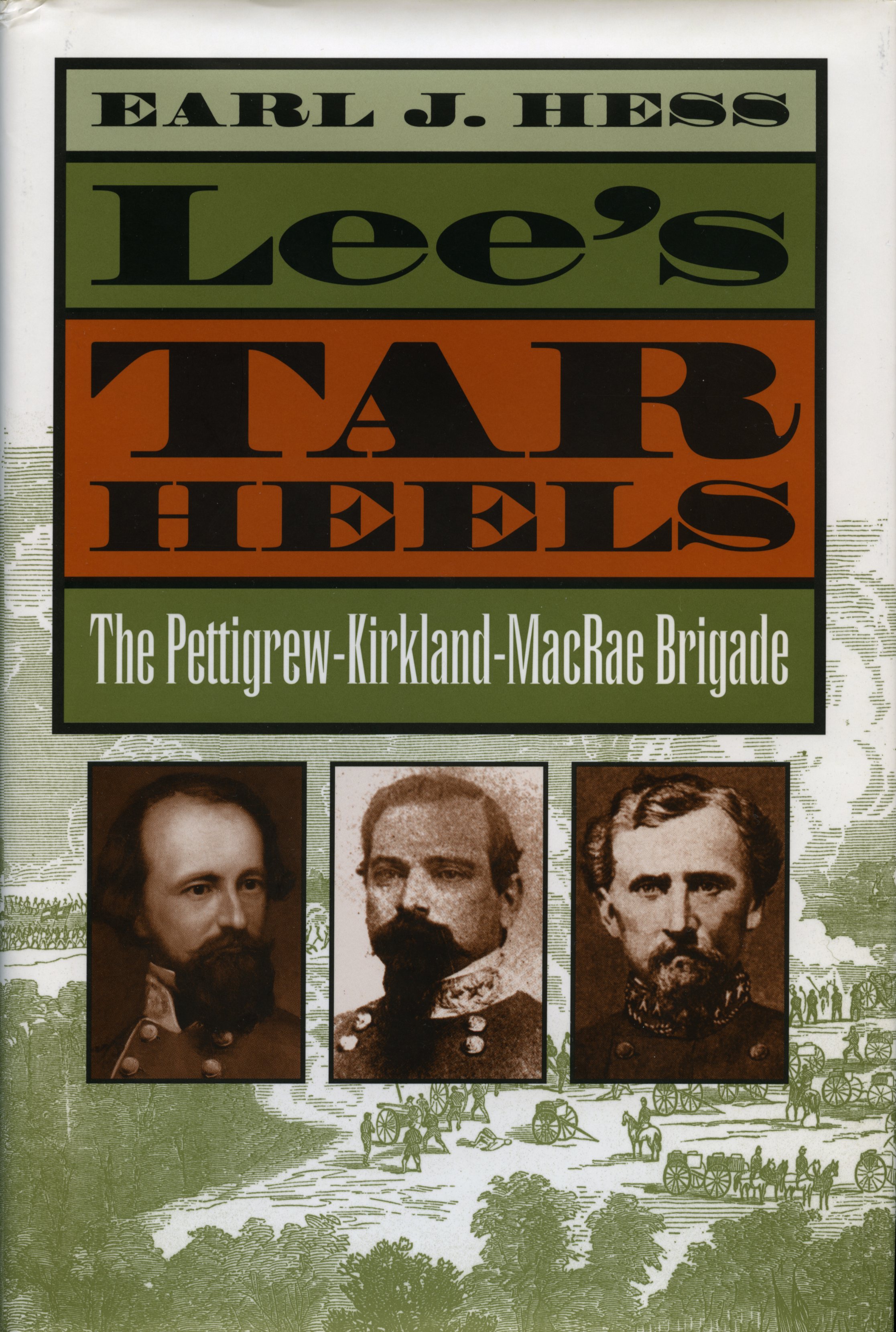 "Lee's Tar Heels is one of the best Civil War unit histories ever written, and it shows us what military history can be and should be." -- J. Tracy Power, author of Lee's Miserables
"A definitive and admirable history of one of the Army of Northern Virginia's great brigades." -- Harry W. Pfanz, author of Gettysburg-The Second Day
"When J.J. Pettigrew led his Tar Heels into the maelstrom around Seminary Ridge on July 1, 1863, the big brigade had seen relatively little action. At Gettysburg and on through to Appomattox, the North Carolinians sculpted an admirable record. This good history of a good brigade tells their story in stirring fashion." -- Robert K. Krick, author of The Smoothbore Volley That Doomed the Confederacy
The Pettigrew-Kirkland-MacRae Brigade was one of North Carolina's best-known and most successful units during the Civil War. Formed in the summer of 1862, the brigade spent many months protecting supply lines in its home state before it was thrust into its first major combat at Gettysburg. There, James Johnston Pettigrew's men pushed back the Union's famed Iron Brigade in vicious fighting on July 1 and played a key role in Pickett's Charge on July 3, in the process earning a reputation as one of the hardest-fighting units in Robert E. Lee's Army of Northern Virginia.
The 26th North Carolina, the brigade's most famous regiment, saw all but 70 of its 800 men felled at Gettysburg, and Pettigrew himself died from a wound suffered in Lee's retreat from Pennsylvania. Yet the brigade went on to prove its valor at Falling Waters, Bristoe Station, the Wilderness, Spotsylvania, Cold Harbor, Jones's Farm, Burgess's Mill, Hatcher's Run, and the final round of battles that brought the Petersburg Campaign to an end. It marched with Lee to Appomattox and was among the last Confederate units to lay down arms in the surrender ceremony.
Lee's Tar Heels tells the story of the men who made up the Pettigrew-Kirkland-MacRae Brigade, which included the 11th, 26th, 44th, 47th, and 52nd North Carolina Regiments. Earl Hess chronicles the unit's formation and growth under Pettigrew and its subsequent exploits under William W. Kirkland and William MacRae. Beyond recounting the brigade's military engagements, Hess draws on letters, diaries, memoirs, and service records to explore the camp life, medical care, social backgrounds, and political attitudes of these gallant Tar Heels. He also addresses the continuing debate between North Carolinians and Virginians over responsibility for the failure of Pickett's Charge.
Published By:
The University of North Carolina Press
P.O. Box 2288
Chapel Hill, NC 27515-2288
1-800-848-6224
Full List of Books by Dr. Earl J. Hess