Banners to the Breeze: The Kentucky Campaign, Corinth, and Stones River
- A Volume in the Great Campaigns of the Civil War Series
To order, go to: http://www.nebraskapress.unl.edu/product/Banners-to-the-Breeze,671428.aspx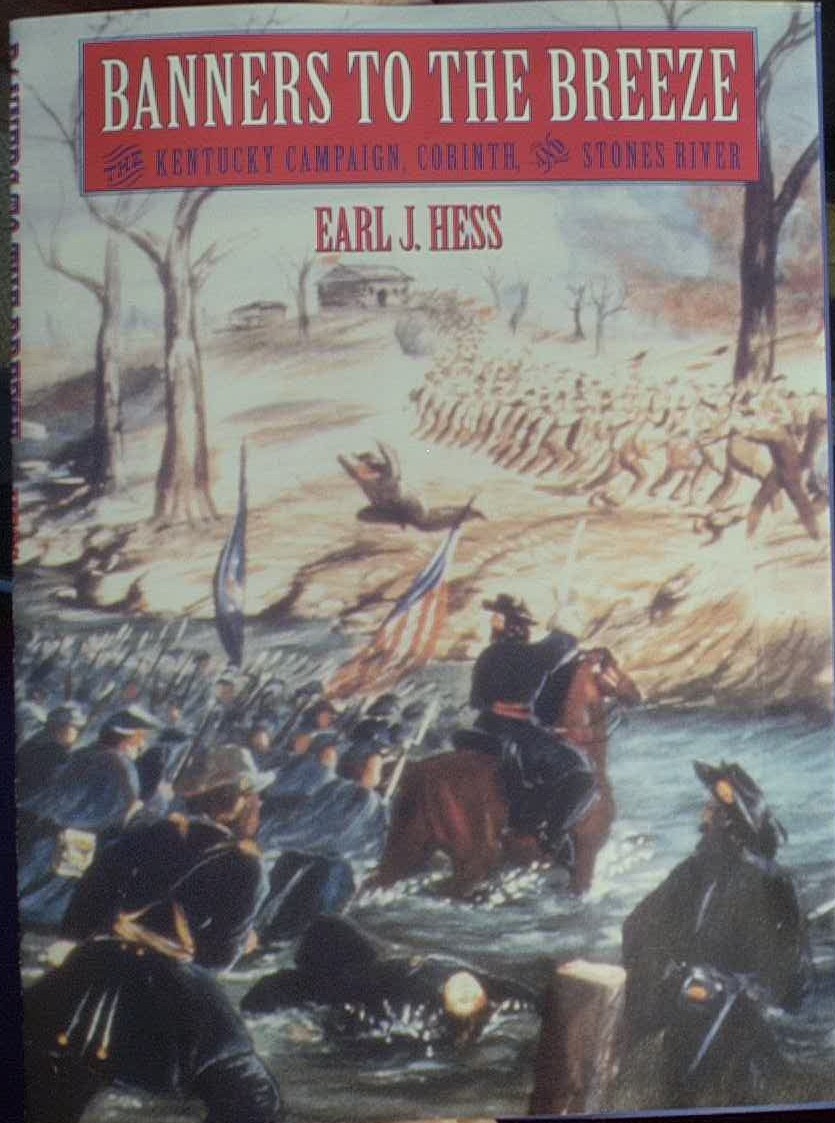 "Without a doubt, Earl J. Hessís Banners to the Breeze is one of the finest Civil War campaign histories ever written. Hess has the uncanny ability to meld the complexities of politics (domestic and international), extended campaign logistics, public sentiment, commandersí squabbles, and tactics into a thoughtful and readable history....Perhaps the most enjoyable aspect of this book is the authorís ability to tell a good story and to write it clearly." -- Roger C. Adams, in Indiana Magazine of History
"[The] narrative of the Kentucky Campaign through Corinth, and on to Stones River, is exceptional history. Hess's eye for detail in military movements, combined with his command over Kentucky's diverse geography and its role in Bragg's invasion, produces impressive results. The strength of the work is in the treatment of major battles." -- Brian D. McKnight, Mississippi State University
"In Banners to the Breeze, Hess, noted author of The Union Soldier in Battle, offers an insightful and exciting-yet succinct-account of Braggís invasion of Kentucky and the battles of Corinth and Stones River....Hess also knows that a good story is essential to good history. His battle narratives are exciting, with enough detail to satisfy enthusiasts who like their battle accounts taken to the regimental level." -- R. Steven Jones, author of The Right Hand of Command
Banners to the Breeze analyzes three major Civil War campaigns that were launched after a series of devastating Confederate defeats at the hands of Ulysses S. Grant in the spring of 1862. After securing Chattanooga, Confederate armies under Braxton Bragg and Edmund Kirby Smith conducted a brilliant advance into the deeply divided state of Kentucky. Although initially successful at Richmond and Munfordville, the Kentucky campaign was turned back by Don Carlos Buell at the bloody battle of Perryville on October 8. Bragg retreated to Murfreesboro, Tennessee, where he defended the vital railroad leading to Chattanooga and the heart of the Confederacy.
Meanwhile, other Confederate forces under Sterling Price and Earl Van Dorn attempted to recapture Corinth, Mississippi. They were repulsed by William S. Rosecrans in a costly battle on October 3-4, which paved the way for the start of Grantís first campaign against Vicksburg the next month.
As the year drew to a close, Rosecrans, now leading Buellís army, advanced from Nashville to Murfreesboro. Here, on December 31, 1862, and January 2, 1863, the two armies fought one of the costliest battles of the war near Stones River. Bragg was forced to retreat farther toward Chattanooga, and Lincoln was given a desperately needed battlefield victory to counterbalance the fiasco at Fredericksburg two weeks before.
Earl J. Hess mixes dramatic narrative and new analysis as he brings these campaigns together in a single volume. Banners to the Breeze offers the reader insights into geography, logistics, personalities, combat, and the connections between what was happening in the field and the political developments at home on both sides of the war. The volume is graced with previously unpublished historic photographs of the Corinth battlefield.
Published By:
University of Nebraska Press
233 North 8th Street
Lincoln, NE 68588-0255
1-800-755-1105
Full List of Books by Dr. Earl J. Hess