Trench Warfare under Grant and Lee: Field Fortifications in the Overland Campaign
- A Selection of the Military Book Club
To order, go to: http://uncpress.unc.edu/books/T-8221.html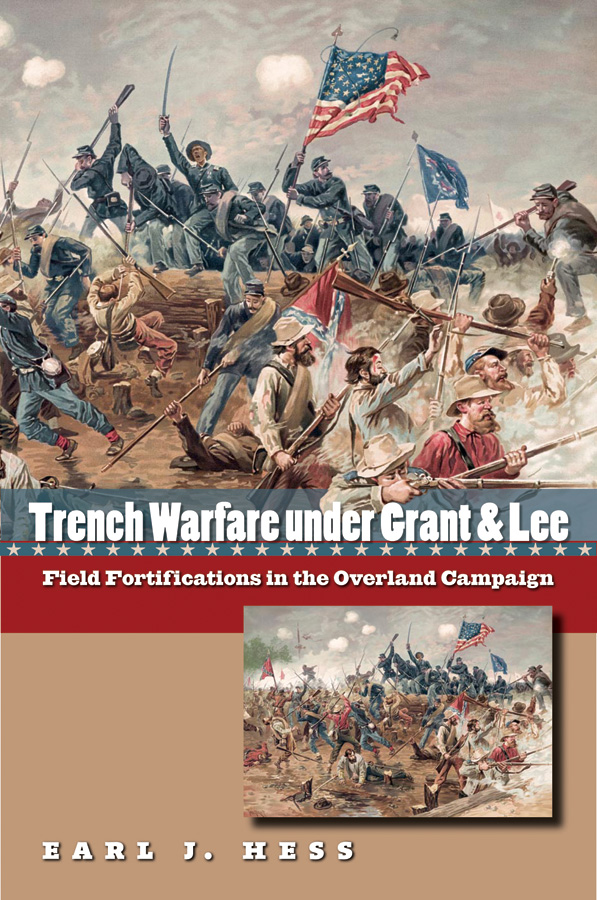 "Grounded in original research and careful inspections of existing archeological remains, Earl J. Hess's Trench Warfare under Grant and Lee is a thoughtful and readable analysis of the evolution of field works during the Overland Campaign of 1864. This pioneering work belongs on the bookshelves of every Civil War buff and everyone interested in the history of modern warfare. I recommend it highly." -- Gordon C. Rhea, author of Cold Harbor: Grant and Lee, May 26-June 3, 1864
"Hundreds of thousands of American soldiers fought behind earthworks in 1864, but until Hess's book no historian had examined the evolution of trench warfare in thorough detail. This fine book covers a significant unexplored topic in gratifying depth." -- Robert K. Krick, author of Stonewall Jackson at Cedar Mountain and Civil War Weather in Virginia
"There are a few Civil War scholars in every generation whose writings are indispensable to specialists and general readers alike. Their painstaking research and deep understanding form the foundation for a combination of narrative and analysis that makes their books accessible, persuasive, and timeless. This volume and its companions, even more innovative and important than his previous outstanding studies, should give Earl J. Hess his rightful place among the best Civil War historians of our time." -- J. Tracy Power, South Carolina Department of Archives and History, in Civil War History
"Earl J. Hess has established himself as one of the most provocative Civil War historians working today. Hess's books debunk established myths and challenge conventional wisdom in a number of areas." -- Charles R. Bowery, in H-Net Reviews in the Humanities & Social Sciences
I shall take no backward step….We can maintain ourselves at least and in the end beat Lee's Army I believe.—Lieut. Gen. Ulysses S. Grant, United States Army, at Spotsylvania
This army cannot stand a siege, we must end this business on the battlefield, not in a fortified place.—Gen. Robert E. Lee, Army of Northern Virginia, at Spotsylvania
[W]e have got a splendid line of breastworks and we can whip any Army the Yankees can bring against us if the Lord is willing.—Pvt. Joseph F. Shaner, Rockbridge, Virginia, Artillery, at Spotsylvania
I hardly know what to think of this wholesale slaughter in storming breastworks so well manned and stubbornly defended. I don't believe it pays.—Surgeon Daniel M. Holt, 121st New York, at Spotsylvania
Continuing the study of field fortifications he began in Field Armies and Fortifications in the Civil War, Earl J. Hess turns to the 1864 Overland Campaign to cover battles from the Wilderness to Cold Harbor. A grueling form of trench warfare became a key feature of tactical operations during this phase of the war in Virginia.
Based on meticulous research in primary sources and on careful examination of trench remnants at the Wilderness, Spotsylvania, North Anna, Cold Harbor, and Bermuda Hundred, Hess describes the earthworks and how Grant and Lee used them in this new era of field entrenchments. The heavy reliance on earthworks by both armies in the Overland campaign was driven by Grant's relentless attacks against Lee, not the widespread use of rifle muskets as historians have previously thought. Entrenchments kept the armies within striking distance and compelled soldiers to dig in. Despite suffering massive casualties, Grant seized and retained control of the strategic initiative for the rest of the war in the Eastern theater.
Bolstered by rare, historic photographs and new, detailed maps of the trench remnants, this book constitutes the second of a three volume study of field fortifications in the Eastern campaigns.
To see this book on Virtual Book Signing, go to: http://www.virtualbooksigning.net/archive.html
Published By:
The University of North Carolina Press
P.O. Box 2288
Chapel Hill, NC 27515-2288
1-800-848-6224
Full List of Books by Dr. Earl J. Hess