The Cinematic Voyage of The Pirate: Kelly, Garland, and Minnelli at Work
by Earl J. Hess and Pratibha A. Dabholkar
To order, go to: http://press.umsystem.edu/(X(1)S(v1lp4hvjuabwemi20xggzp45))/product/The-Cinematic-Voyage-of-THE-PIRATE,2159.aspx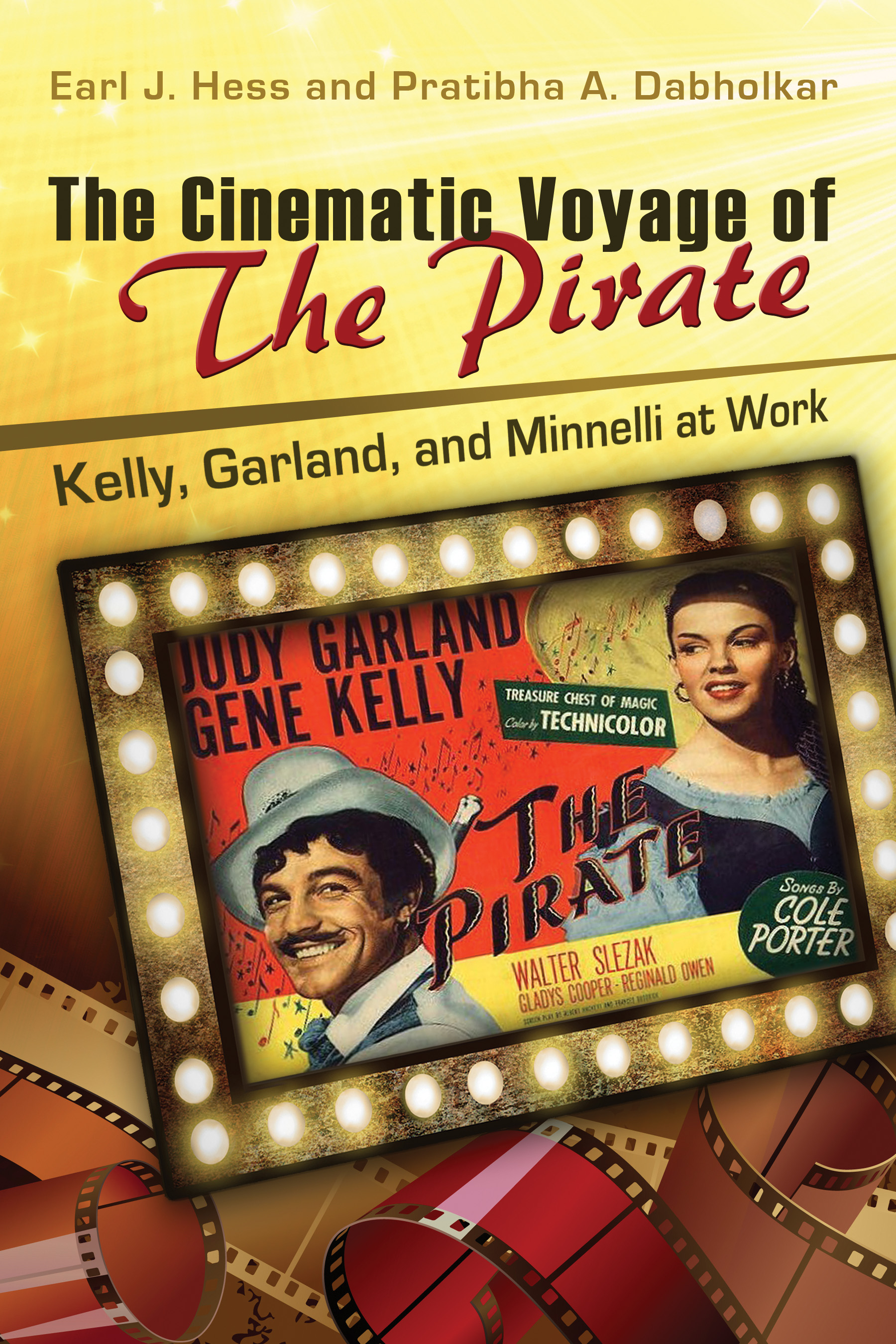 "This is a first-rate piece of work. The book does a fabulous job of covering every possible aspect of The Pirate's production history. Readers will find this book a good read; scholars will treat it as an important and lasting resource. Overall, the balance of topics and treatments is well-nigh perfect." -- Rick Altman, author of The American Film Musical and Film/Genre
"Hess and Dabholkar make another important contribution to the study of the American movie musical. This book is the final word on the seminal Kelly-Garland-Minnelli musical The Pirate. It is a model for how to do a historical and critical analysis of a single film." -- Gerald R. Butters, Jr., author of Banned in Kansas: Motion Picture Censorship, 1915-1966
The Pirate was one of the very best products of the famous Arthur Freed Unit of M-G-M's glory days. Based on a successful Broadway production in 1942, the film was directed by Vincente Minnelli, and starred Gene Kelly and Judy Garland. It displayed some of the brightest work of these three gifted moviemakers, dazzling many critics and viewers with exotic set décor and costumes, brilliant Technicolor application, stunning dance routines, and a clever plot about an actor who pretends to be a famous pirate to win the love of a fanciful island girl. Costing much more than average, even for a Freed musical, it was released with high expectations in 1948.
While reception of The Pirate initially reinforced hopes for its success, the majority of film audiences at the time did not understand its tongue-in-cheek aspect and critical reviews were somewhat mixed. This shaded the perception of the film and its significance. Historians have long mistakenly argued that it was a commercial and critical failure—but it was not. As this careful study shows, The Pirate was a commercial and critical success despite some early misperceptions. Most critics loved it, the movie made a small profit for M-G-M, and the film grew in public appeal over time. The Pirate has been studied by film historians, gender studies scholars, and film studies professionals over nearly seventy years, and yet it has never received its due.
The Cinematic Voyage of The Pirate: Kelly, Garland, and Minnelli Work, follows the model of the authors' previous study of Kelly's famous film, Singin' in the Rain. Based on exhaustive research in archives, memoirs, interviews, and newspaper coverage, it takes the reader from the original conception of the story in the mind of a German playwright named Ludwig Fulda, through S. N. Behrman's Broadway production starring Alfred Lunt and Lynn Fontanne, to the arduous task of crafting a suitable screenplay at M-G-M. Behind-the-scenes issues such as Garland's personal problems during the making of the film, and the shaping of the film by Minnelli and Kelly, are among the many subjects detailed here. This book celebrates the vitality, originality, and artistic achievement of the people who worked hard to make The Pirate one of the very best film musicals ever made. It also contributes to a growing literature asserting the importance of single-film production history and the significance of the film musical in the golden age of Hollywood.
Published By:
University of Missouri Press
2910 LeMone Boulevard
Columbia, MO 65201
1-573-882-3000