Civil War Infantry Tactics: Training, Combat, and Small-Unit Effectiveness
- Winner of the Tom Watson Brown Book Award, Society of Civil War Historians, 2016
- Finalist, Lincoln Prize, 2016
To order, go to: http://lsupress.org/books/detail/civil-war-infantry-tactics/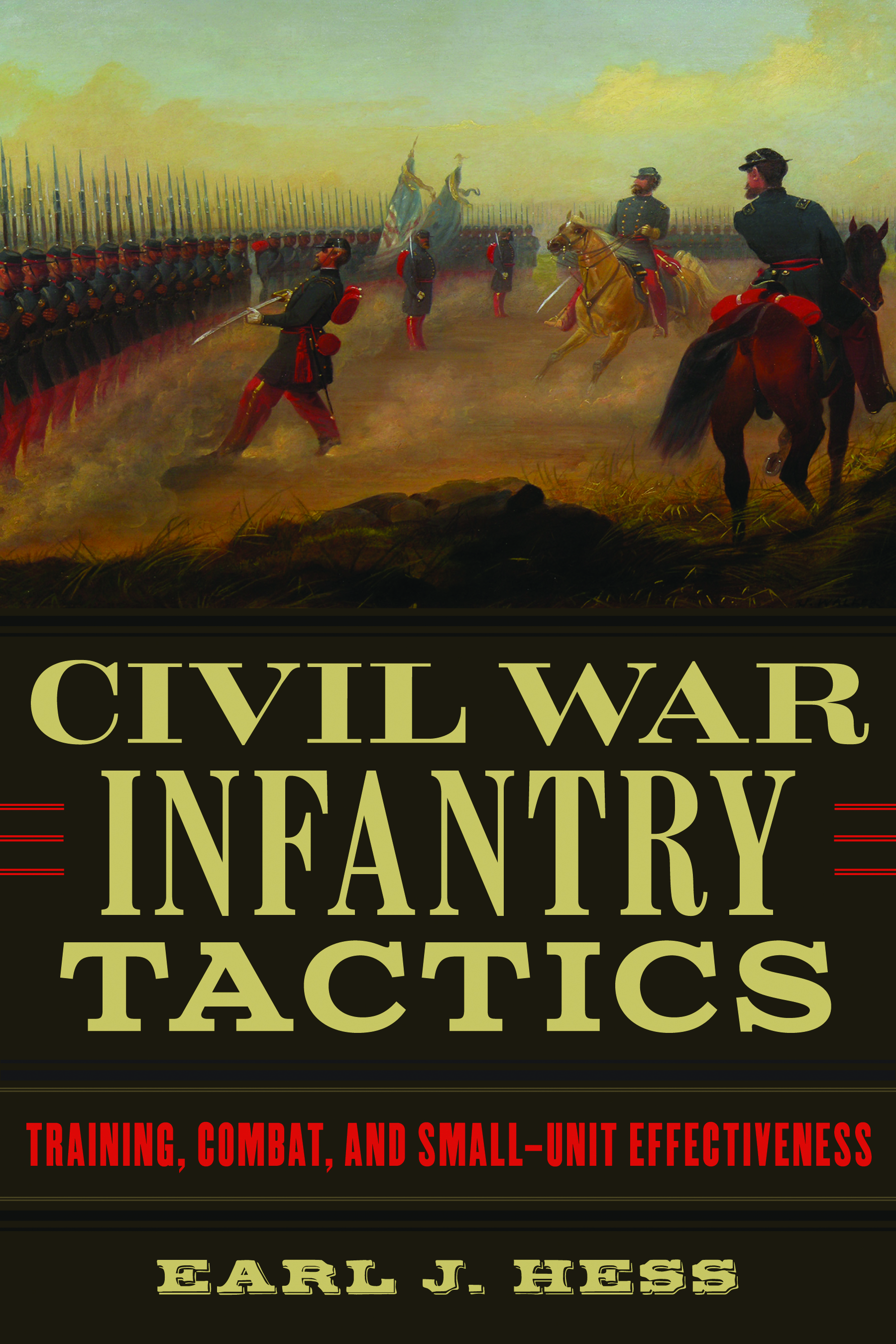 "At a time when Civil War scholars seem interested in just about everything except the battlefield, the appearance of Earl J. Hess's Civil War Infantry Tactics is a decidedly welcome event. Both provocative and persuasive in its arguments, it effectively builds on Hess's distinguished previous works and will appeal to anyone who wants to understand what happened on the battlefields of America's bloodiest conflict and its place in the evolution of warfare. An invaluable contribution to literature on the war and its conduct; I cannot recommend it highly enough."-- Ethan S. Rafuse, author of McClellan's War: The Failure of Moderation in the Struggle for the Union and editor of Corps Commanders in Blue: Union Major Generals in the Civil War
"Earl Hess has established himself as the preeminent historian of Civil War tactics. His work is always impeccably researched, lucidly written, and compelling in its conclusions. But most importantly, Hess is one of relatively few Civil War historians able to place his subject in a larger comparative and longitudinal perspective. Civil War Infantry Tactics is thus military history in the fullest sense, not just Civil War history. It is also a fascinating read. I cannot recommend it strongly enough."-- Mark Grimsley, Ohio State University
(see More Reviews below)
For decades, military historians have argued that the introduction of the rifle musket—with a range five times longer than that of the smoothbore musket—marked a dramatic change in Union and Confederate military operations and altered the course of the Civil War. The rifle musket, it has been argued, made the shoulder-to-shoulder formations of linear tactics obsolete.
Earl J. Hess challenges these deeply entrenched assumptions. He contends that long-range rifle fire did not dominate Civil War battlefields, since soldiers had neither the training nor the desire to take advantage of the rifle's increased range. Drawing on the drill manuals available to officers and a close reading of battle reports, Civil War Infantry Tactics demonstrates that linear tactics provided the best formations and maneuvers to use with the single-shot musket, whether rifle or smoothbore. The training soldiers received in this system, combined with their extensive experience in combat, allowed small units a high level of articulation and effectiveness. Far from an outdated relic that led to higher casualties and prolonged the war, regimental officers north and south found the linear system to be indispensable to the survival of their units on the battlefield.
Hess zeroes in on formations and maneuvers (or primary tactics), describing their purpose and usefulness in regimental case studies, and pinpointing which of them were favorites of unit commanders in the field. The Civil War was the last conflict in North America to see widespread use of the linear tactical system, and Hess convincingly argues that the war also saw the most effective tactical performance yet in America's short history.
More Reviews:
"The premier military historian of the Civil War has done it again. Earl Hess presents a multitude of detailed examples demonstrating that Civil War commanders were capable tacticians within the limits of linear warfare, that they knew, trained their soldiers for, and employed a wide variety of battlefield maneuvers. Starting from the origins of linear warfare in early modern Europe, Hess provides essential background and context often missing from Civil War battle narratives. Then he carefully works through the nuances and dilemmas that commanders faced on the linear battlefield, and the incremental tactical decentralization that developed during the war. Avoiding the anachronism and exaggeration that often creep into studies of battlefield tactics, Hess helps us understand both the potential and the constraints of linear warfare, and why variations on that system of tactics remained the norm until the world wars and beyond. In doing so, he helps bridge the gap between the Napoleonic Wars and the First World War, a valuable service for all military historians. Any historian, social, political, or military, interested in the Civil War will find Civil War Infantry Tactics beneficial, whether for the subtleties of battlefield mechanics or for understanding the broad limits and possibilities of the battles that decided the fate of the nation."-- Samuel J. Watson, author of Jackson's Sword: The Army Officer Corps on the American Frontier, 1810-1821
"Nobody knows the Civil War battlefield better than Earl J. Hess, and his outstanding book Civil War Infantry Tactics is confirmation of that fact. . . . This is first-rate military history."—Civil War Monitor
"A work that all Civil War military historians should read. . . . Hess has provided a solid examination of Civil War tactics that will be extremely helpful to all students of the Civil War, whether professional, buff, or re-enactor."—Register of the Kentucky Historical Society
"The strengths of this work are substantial and I will only highlight a few key points that I found most impressive. In addition to being a well-researched and thoroughly engaging read, Hess provides his reader with an excellent introduction to the historiography of Civil War tactics that is well worth reading on its own. His discussion of tactical developments after the Civil War was particularly enlightening as well. . . . An excellent work of military history."—Civil War Book Review
"Hess has once again crafted a well-argued, thorough, and at many points, engaging work that successfully pushes back against generations of accepted dogma. Furthermore, Civil War Infantry Tactics provides an important starting point for future debates over the effectiveness of small-unit infantry tactics—a debate that historians have hitherto considered settled."—North Carolina Historical Review
"For Civil War historians and readers alike, Earl J. Hess has once again presented a must read book that provides arguments that shift our thinking about the nature of combat on the conventional field of battle during America's bloodiest war."—Journal of Military History
Published by:
Louisiana State University Press
Johnston Hall, Room 338
Baton Rouge, LA 70803
1-800-848-6224