In the Trenches at Petersburg: Field Fortifications and Confederate Defeat
- Winner of the Richard Barksdale Harwell Book Award, Atlanta Civil War Round Table, 2010
- Finalist for Peter Seaborg Award, George Tyler Moore Center for the Study of the Civil War, Shepherd University, Shepherdstown, West Virginia, 2010
To order, go to: http://uncpress.unc.edu/books/T-8658.html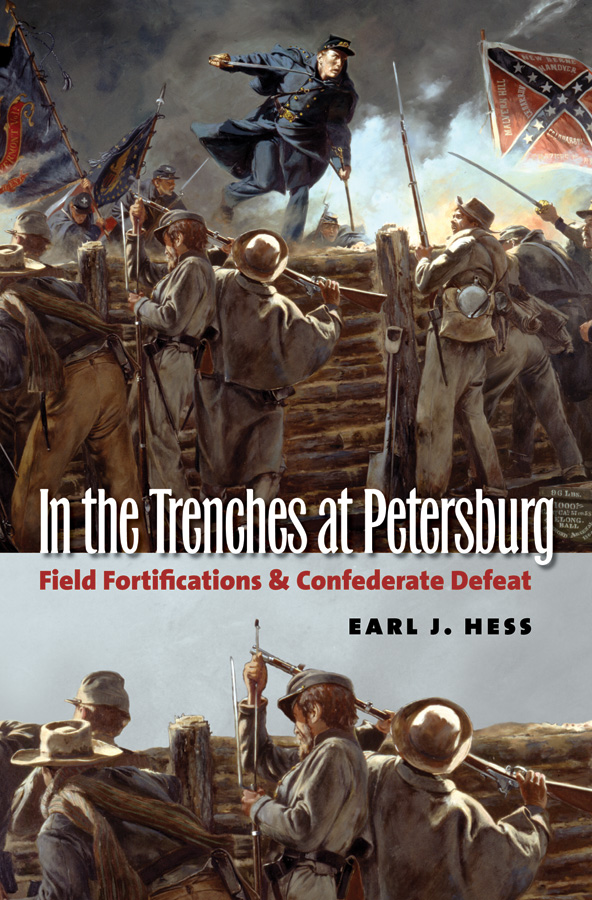 "The last volume of Earl J. Hessís trilogy on field fortifications in the East completes a figurative breakthrough as impressive as Grantís literal breakthrough at Petersburg. It and its companion volumes, displaying a masterful blend of narrative, description, and analysis, are among the most significant Civil War studies of this or any time." -- J. Tracy Power, South Carolina Department of Archives and History, author of Leeís Miserables: Life in the Army of Northern Virginia from the Wilderness to Appomattox
"Earl Hess has written the finest study of the Petersburg Campaign in more than a century. By relating the development of the armyís field engineering to the course of the combat action, and through the use of previously untapped sources, Hess brilliantly unravels the complexity of the Petersburg story. This is simply one of the finest Civil War studies of our generation." -- A. Wilson Greene, Pamplin Historical Park, author of The Final Battles of the Petersburg Campaign
ďEarl J. Hess has established himself as one of the most provocative Civil War historians working today. Hessís books debunk established myths and challenge conventional wisdom in a number of areas." -- Charles R. Bowery, in H-Net Reviews in the Humanities & Social Sciences
The trenches were almost knee deep in mud and it was still raining. Our clothes were covered with mud and soaked with rain, no place to sleep and nothing much to eat, and sixty-four pound mortar shells bursting all around.óW. A. Day, 49th North Carolina
"Here is a nice swallow-tail lunette," says Parke as if introducing a pati de foie gras, "these two faces, you see, look down the two roads of approach, and here is a face that looks into that ravine: nothing could live in that ravine, nothing!" "Yes," replies Father Meade, "that seems all right; now you want to slash out, about 300 yards further, and get a good field of fire so that the enemyís sharpshooters canít annoy your gunners."óTheodore Lyman, Meadeís staff
If any insane gent sitting slipshod at home reading the papers, wonders why Grant didnít advance more on Richmond, the 18th Corps would like the job of taking him out on our picket line, and tossing him atop one of their infernal machines to show him exactly why.óEdward Hastings Ripley, brigade commander, 18th Corps
The Petersburg campaign began 15 June 1864 with Union attempts to break an improvised line of Confederate field fortifications. By the time the campaign ended on 2 April 1865, two opposing lines of sophisticated and complex earthworks stretched for thirty-five miles, covering not only Petersburg but also the southeastern approaches to Richmond. This book, the third volume in Earl Hessís trilogy on field fortifications in the Eastern Theater, sets the history of fortifications within the strategic and tactical operations in Virginia during the last ten months of the Civil War, when field fortifications dominated military planning and the landscape of battle.
The book covers all aspects of military engineering, including mining and countermining, the fashioning of wire entanglements, the laying of torpedo fields, and the construction of underground shelters to protect the men who manned the works. It also humanizes the experience of the soldiers working in the fortifications, revealing their attitudes toward attacking and defending earthworks and the human cost of trench warfare in the waning days of the Civil War.
Hessís first volume on field fortifications examined the growing use of earthworks during the early stages of the Civil War. With its focus on the Overland Campaign of 1864, the second volume examined a constantly moving campaign. Here, Hess examines in great detail one of the most important weapons that Ulysses S. Grant used to defeat Robert E. Lee at Petersburg. He extracts evidence from maps and earthworks systems, historic photographs of the entrenchments, extensive research in published and archival accounts by men engaged in the campaign, official engineering reports, modern sound imaging to detect mine galleries, and firsthand examination of the remnants of fortifications on the Petersburg battlefield today.
Published By:
The University of North Carolina Press
P.O. Box 2288
Chapel Hill, NC 27515-2288
1-800-848-6224
Full List of Books by Dr. Earl J. Hess