Kennesaw Mountain: Sherman, Johnston, and the Atlanta Campaign
- A Main Selection of the History Book Club
- A Main Selection of the Military Book Club
To order, go to: http://uncpress.unc.edu/books/12168.html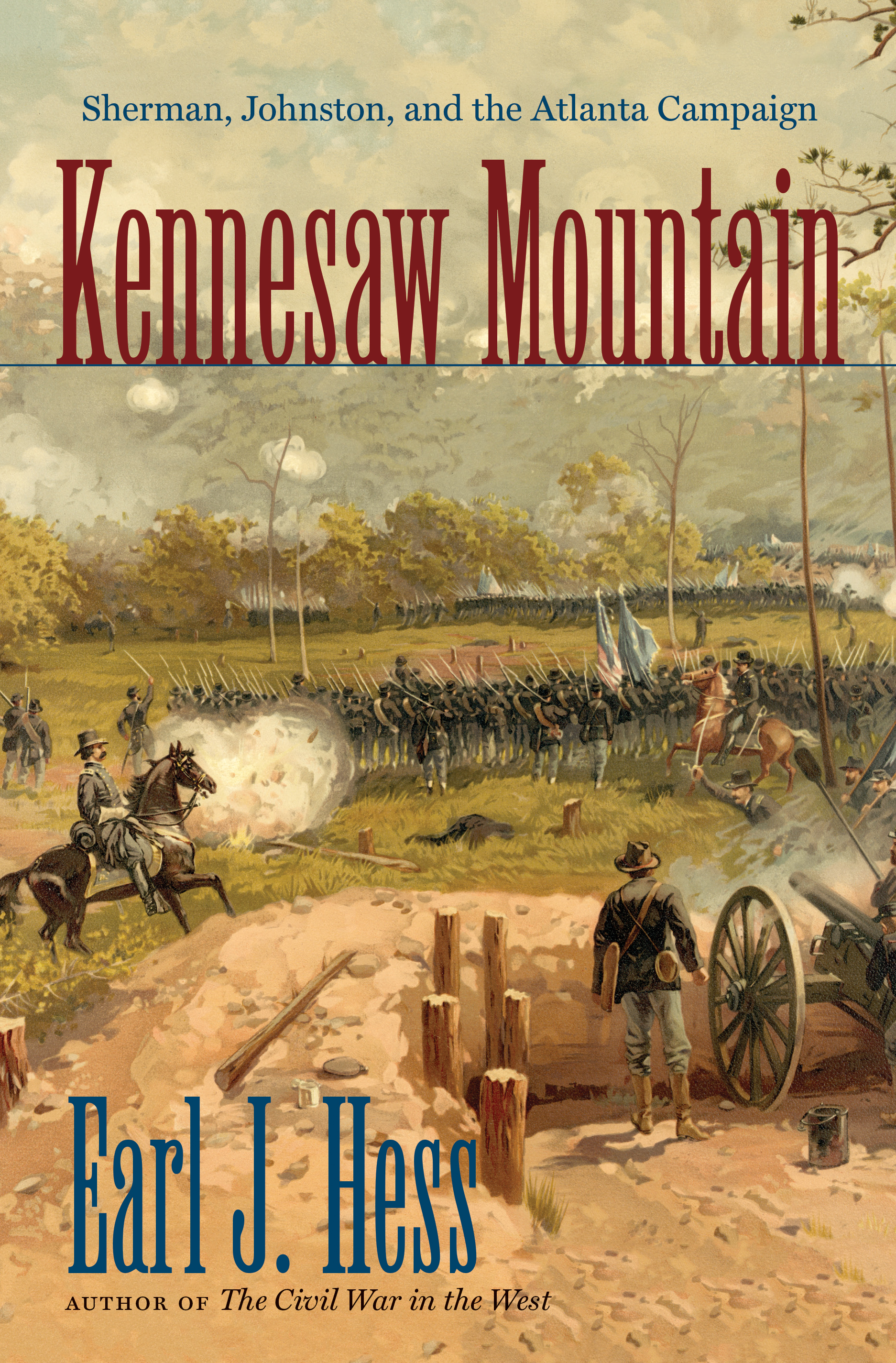 "The Battle of Kennesaw Mountain is one of the most important as yet unexamined subjects in Civil War military history. Earl Hess's thoroughness, precision, and clear and insightful analysis assure that this will be the definitive account of the battle."-- Steven E. Woodworth, author of Decision in the Heartland: The Civil War in the West
"The 1864 battles around Kennesaw Mountain have long merited greater attention from students of the Civil War. In Kennesaw Mountain: Sherman, Johnston, and the Atlanta Campaign, the amazingly prolific Earl J. Hess offers an authoritative and exhaustively researched account of these operations that will appeal to scholars and general readers alike."
-- Ethan S. Rafuse, author of McClellan's War: The Failure of Moderation in the Struggle for the Union and Robert E. Lee and the Fall of the Confederacy, 1863-1865
"To describe Earl Hess as prolific would be an exercise in gross understatement. Since 1992 Hess has established himself as one of the leading historians of the Civil War, one whose productivity is matched by his perceptiveness." -- Richard DiNardo, USMC Command and Staff College, in Journal of Military History
"Detailed maps and numerous images round out Hess's crisp writing style and extensive research. Kennesaw Mountain is an exceptionally strong book for all those readers interested in the Atlanta Campaign, the western theater, and the Civil War in general. -- Lawrence A. Kreiser, Jr., author of Defeating Lee: A History of the Second Corps, Army of the Potomac
While fighting his way toward Atlanta, William T. Sherman encountered his biggest roadblock at Kennesaw Mountain, where Joseph E. Johnston's Army of Tennessee held a heavily fortified position. The opposing armies confronted each other from June 19 to July 3, 1864, and Sherman initially tried to outflank the Confederates. His men endured heavy rains, artillery duels, sniping, and a fierce battle at Kolb's Farm before Sherman decided to directly attack Johnston's position on June 27. Kennesaw Mountain tells the story of an important phase of the Atlanta campaign. Historian Earl J. Hess explains how this battle, with its combination of maneuver and combat, severely tried the patience and endurance of the common soldier and why Johnston's strategy might have been the Confederates' best chance to halt the Federal drive toward Atlanta. He gives special attention to the engagement at Kolb's Farm on June 22 and Sherman's assault on June 27. A final section explores the Confederate earthworks preserved within the Kennesaw Mountain National Battlefield Park.
Published By:
The University of North Carolina Press
P.O. Box 2288
Chapel Hill, NC 27515-2288
1-800-848-6224
Full List of Books by Dr. Earl J. Hess