Into the Crater: The Mine Attack at Petersburg
To order, go to: http://www.sc.edu/uscpress/books/2010/3922.html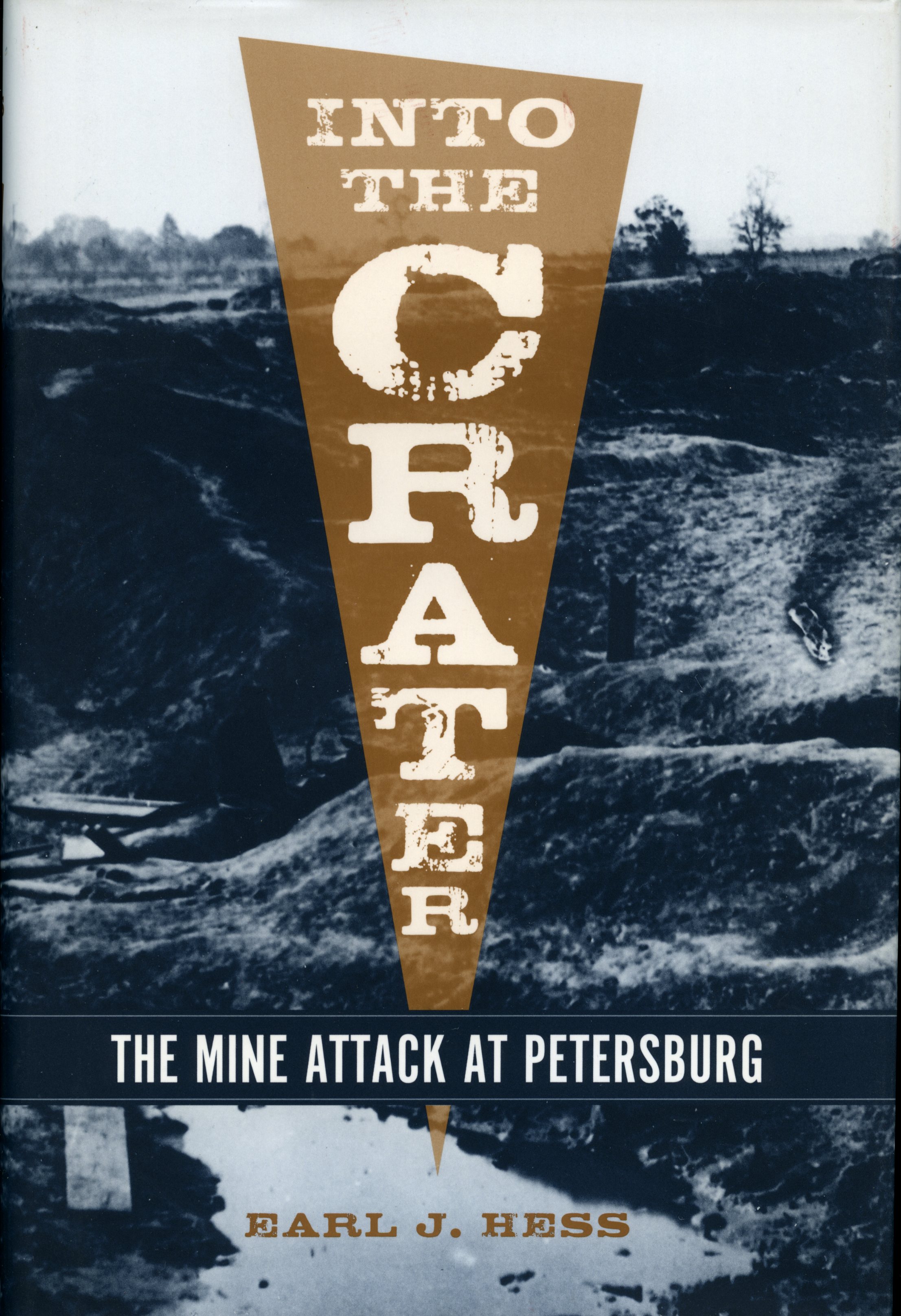 "With impressive research and persuasive interpretations, Earl J. Hess paints a comprehensive picture of one of the most intriguing episodes of the Civil War. This book cuts through the confusion in the Crater with poignant clarity, surpassing all previous renditions of that fascinating story." -- William Marvel, author of Lincoln's Darkest Year
"Hess applies his many gifts as a historian to one of the Civil War's remarkable military incidents. The Battle of the Crater combined impressive engineering, inept leadership, the first appearance of black soldiers on a large scale in the Virginia theater, and bitter combat—all of which Hess handles beautifully. Both enjoyable and instructive, the narrative amply rewards a careful reading." -- Gary W. Gallagher, author of The Confederate War
"Hess has produced yet another Civil War classic—a compelling narrative and astute analysis of one of its most dramatic and most confusing battles. Using a vast array of unpublished and published accounts by combatants to craft a masterful moment-by-moment examination of the Battle of the Crater and its immediate aftermath, this is the clearest picture yet of how a Federal mine was built underneath the Confederate lines at Petersburg, how the assault against those lines was planned and executed, and why it ultimately failed. In doing so, Hess also offers correctives to several long-held misinterpretations of the battle by participants then and historians since and provides an essential context for understanding the terrible combat between black Federals and white Confederates that gave the Crater a ferocity unmatched in scale or intensity by any other battle of the war. Into the Crater is everything we have come to expect and appreciate from Hess's previous landmark studies: authoritative, persuasive, accessible, and simply indispensable." -- J. Tracy Power, author of Lee's Miserables
"Over the past twenty years, Earl J. Hess has emerged as the foremost authority on Civil War tactical warfare. His studies of Pickett's Charge, trench fortifications, and the influence of the rifled musket shed new insights on a formerly moribund field." -- Leonard Lanier, Louisiana State University, in Southern Historian
"With his encyclopedic research and impressive narrative style, Earl J. Hess sets a new standard in modern studies of the Battle of the Crater, one of the most unique military actions of the American Civil War." -- William Glenn Robertson, director, Combat Studies Institute
The battle of the Crater on July 30, 1864, was the defining event in the 292-day Petersburg, Virginia, campaign during the Civil War and one of the most infamous engagements in American military history. Although the bloody combat of that "horrid pit" has been recently revisited as the centerpiece of the novel and film versions of Charles Frazier's Cold Mountain, the battle has yet to receive a definitive historical study. Distinguished Civil War historian Earl J. Hess fills that gap in the literature of the Civil War with Into the Crater, a comprehensive examination of the battle, its tragic outcome, and the myriad personalities involved on both sides.
The Crater was the centerpiece of Ulysses S. Grant's third offensive at Petersburg and required the digging of a five-hundred-foot mine shaft under enemy lines and the detonation of four tons of gunpowder to destroy a Confederate battery emplacement. The resulting infantry attack through the breach in Robert E. Lee's line failed horrifically, costing Grant nearly four thousand troops, among them many black soldiers fighting in their first battle. The outnumbered defenders of the breach saved Confederate Petersburg and inspired their comrades with renewed hope in the lengthening campaign for possession of this important rail center.
In this narrative account of the Crater and its aftermath, Hess identifies the most reliable evidence to be found in hundreds of published and unpublished eyewitness accounts, official reports, historic photographs, archaeological studies, and field research of the ground itself, now preserved within the Petersburg National Battlefield. He recreates the battle in lively prose saturated with names, places, tactics, sights, and sounds in crisply rendered moment-by-moment descriptions that bring modern readers into the chaos of close combat. Hess discusses the siege strategy of Petersburg campaign; the opposing armies' orders of battle; the specifics of field fortifications; and the motivations of Union generals Grant, George Meade, and Ambrose Burnside and of Confederate generals Lee, P. G. T. Beauregard, and A. P. Hill. He also chronicles the atrocities committed against surrendered black soldiers, both in the heat of battle and afterward, and the efforts of some Confederate officers to halt this vicious conduct.
The climactic explosion of June 30, 1864, which swallowed fifteen hundred Confederate troops and the failure of the subsequent Union assault remain monumental moments in the complex history of Civil War combat. With fresh insights, adroit research in all manner of sources, and previously unpublished photographs and field maps, Hess takes readers into the Crater once more so that we might better understand the magnitude of this historical event, which Grant deemed "the saddest affair I have witnessed in the War."
Published By:
The University of South Carolina Press
1600 Hampton Street
Columbia, SC 29208
1-803-777-5243
Full List of Books by Dr. Earl J. Hess